With my unhealthy obsession with Spain and secret places, this kind of post just had to be published. I'm always searching for the best hidden gems of Spain, and my bucket list keeps growing every single day (no jokes).
This country is much more surprising than most people give it credit for, so I hope this list will make you say, "I've never heard of these places, but now I really want to go!".
*I try to keep the information on this blog as updated as possible, but I still recommend consulting the latest prices, opening hours, and other details on each site's official website.
*This post may contain affiliate links from which I earn a commission (for more info, read my disclosure). As an Amazon Associate, I earn from qualifying purchases.
---
---
---
---
HIDDEN GEMS OF SPAIN'S MAINLAND
ACEBUCHAL
By Victoria from Guide Your Travel
Acebuchal is a tiny village located in the mountains of southern Spain. It was actually abandoned for more than 50 years during the Spanish Civil War and only recently rebuilt in the early 2000s.
Today, Acebuchal has become a small tourist attraction and day-trip destination. It's known for its beautiful hikes and fascinating scenery, and of course, the iconic white houses that make it stand out.
Come here for lunch in the village restaurant which offers homemade bread and a cold drink after a long day out in the sun, which will surely make you fall in love with this beautiful Spanish hidden gem.
BOCAIRENT
By Flor and Juan from Ruta del Mate
Heading away from the Mediterranean coast towards the interior of the Valencian Community lies Bocairent.
The first thing you'll notice before arriving is that the village is nestled on a hill, with a succession of houses, one on top of the other, crowned by the Church of Our Lady of the Assumption.
With such a postcard scene in front of you, it's natural to wonder about the best place from which to enjoy these breathtaking views. There will be time to stroll through its Moorish-style alleyways, plant and flower-filled streets, and curious rock caves.
So although there are a couple of viewpoints, approach the cemetery on the route without fear. Descend the path behind it, and the views become even better. Undoubtedly, this is one of the most amazing hidden places in Spain that will be a surprise on your trip.
GRANADILLA
By Irene from Piggy Traveller
Granadilla became a ghost town in the sixties when residents were forced out after most of the land was expropriated to build a reservoir.
While there are no restaurants, no shops, and nowhere to stay the night (it's a ghost town after all), it's an incredible little place to visit (for free!) if you are in northern Extremadura.
As the town is mostly surrounded by water, there's only one road in and out of it. The main highlights are the castle and the city wall. From the castle tower, you'll have amazing panoramic views of the nearby reservoir and across Granadilla of both old ruins and renovated houses.
Walk along the city wall, lose yourself amongst the ruins, and don't miss the Casa de las Conchas ('House of the Shells') in the main square.
Northern Extremadura is one of Spain's best-kept secrets for travelers and an excellent place for road trips, birdwatching, and wild swimming.
Within half an hour by car from Granadilla, you can visit the Roman city of Cáparra and Hervás, which has one of Spain's best-preserved Jewish quarters.
VILLAJOYOSA
By Martina from Places of Juma
Villajoyosa is a real insider's tip for visiting the best non touristy places in Spain. This colorful city is located in the center of Costa Blanca and is therefore not far from the main tourist hot spots Benidorm and Alicante.
The colorful townhouses, the lovely old town, and the many beaches around make this place a unique spot along the Spanish coast.
Directly in front of the old town is the main beach Playa la Villajoyosa, a beautiful sandy beach perfect for swimming and relaxing.
Just behind there is the picturesque seafront promenade, with its many colorful little houses, where you can find some cozy local restaurants and cafes.
ARTAJONA
How much do you know about the region of Navarra?
Apart from the city of Pamplona, the town of Tudela, and the Royal Palace of Olite, Navarra remains one of the most underrated places in Spain. So if you do decide to visit it, add the medieval town of Artajona to your itinerary.
Not only is Artajona one of the best-preserved walled towns in Navarra, but it was also its own kingdom for a few years in the 12th century.
On your visit, admire the Cerco de Artajona (medieval fortifications), Iglesia de San Saturnino, and Basílica de Nuestra Señora de Jerusalén.
BUITRAGO DEL LOZOYA
With so many fantastic day trips from Madrid, it's easy to overlook the lesser-known town of Buitrago del Lozoya. Within a 90-minute bus ride, you can get to this charming place, where once Jews, Christians, and Muslims used to co-exist.
Some of the things you can't miss in this town include the Moorish walls, the 15th-century Buitrago del Lozoya Castle, the 14th-century Church of Santa Maria del Castillo, and the Picasso Museum, which houses a collection of original works by the artist.
If you're looking to explore the surrounding area, you can also take a few easy hikes like Senda del Embalse de Riosequillo and Senda de las Gariñas.
EL BURGO DE OSMA
By Julie from Julie Dawn Fox in Portugal
El Burgo de Osma is a delightful small town in the province of Soria in Spain, about a 3-hour drive from Salamanca.
Within the medieval walls lies a cluster of stone and timber buildings spreading out around the focal point, which is the cathedral.
One of the many treasures inside the cathedral is the Mapamundi, a primitive and fascinating map of the world as it was imagined in 1086.
The town itself is lovely to walk around, both inside and outside the walls, and you'll undoubtedly end up doing a spot of people-watching in the atmospheric Plaza Mayor.
If you want to explore the beautiful countryside, drive to Rio Lobos Canyon to go for a hike and spot vultures.
ANTEQUERA
By Cristina Reina from My Little World of Travelling
Antequera is often an overlooked town in Southern Spain, but it has plenty of things to offer – from historical places to beautiful and lively squares and restaurants.
This enchanting town is a great day trip from Malaga as it's only a 45-minute drive from the city.
A must-see attraction in Antequera is the Alcazaba, a Moorish fortress that was built in the 14th century. Not only does this place have an outstanding interior and architecture but also has Antequera's best view.
Another place you can't miss during your visit is a trip to Antequera Dolmens Site, a UNESCO World Heritage Site that includes three impressive cultural monuments as well as two mountains.
Lastly, when visiting Antequera, you don't want to miss out on trying mollete, delicious soft bread filled with a filling of your choice.
ROMAN RUINS OF ACINIPO
By Joanna from Andalucia in my Pocket
The Roman Ruins of Acinipo are one of Southern Spain's most amazing hidden gems. Located close to Ronda, the ruins are free to visit but don't see many visitors at all. Usually, you will have the entire site to explore just for yourself.
Acinipo used to be a prosperous Roman city, home to over 4,000 people. Located at a crossroads between Sevilla, Cordoba, and the coast, Acinipo traded with the nearby cities.
Traces of fish have been discovered here, meaning that the city was well connected with the coast. The city flourished for two centuries before Ronda was built.
On top of the hill, you will find one of the best-preserved Roman amphitheaters in Spain. Behind it, the panorama of the rolling hills on one side and the mighty peaks of the Sierra de Grazalema National Park on the other will leave you breathless.
EL MELERO MEANDER
Located in the undiscovered region of Extremadura, El Melero Meander is yet another proof that Spain is full of surprises and is home to almost every type of scenery.
Formed by the Alagon River, this meander can easily be viewed from the Mirador de La Antigua (La Antigua lookout point), which you can reach by car.
RUPIT
Many of Catalunya's medieval villages are hidden gems, and a visit-worthy tiny one of them is Rupit.
From its narrow streets with stone houses to the surrounding natural scenery (including the largest waterfall in the region, Salt de Sallent), don't hesitate to add this spot to your Catalunya road trip itinerary.
CAZORLA NATURAL PARK
By Linn from Andalucia Hiking
Cazorla, Segura y Las Villas Natural Park is one of Spain's best kept secrets. With an abundance of wildlife, peaks, and waterfalls, this is one of the most beautiful parts of the south. It's also surrounded by whitewashed villages and medieval castles.
The natural park is best explored by car and can easily be reached from Jaen, Granada, and Malaga. Make sure you walk through Rio Borrosa in Arroyo Frio and the Rio Cerezuelo trail in Cazorla for the best waterfalls.
When visiting the park, the village of Cazorla is a good place to stay as there is a lot to do within walking distance from it.
CIES ISLANDS
If you're looking for a piece of paradise where you can both soak up the sun and enjoy the most magnificent views, the Cies Islands are for you.
Within only a 30-minute ferry ride from the city of Vigo (or the towns of Baiona and Cangas), you'll get to this dreamy place, which is one of the most stunning spots in northern Spain.
Beyond sunbathing on one of the most beautiful beaches in Spain, Rodas Beach, you can also dive around the islands and take a few scenic hikes that will blow your mind (don't miss the Alto del Príncipe Route).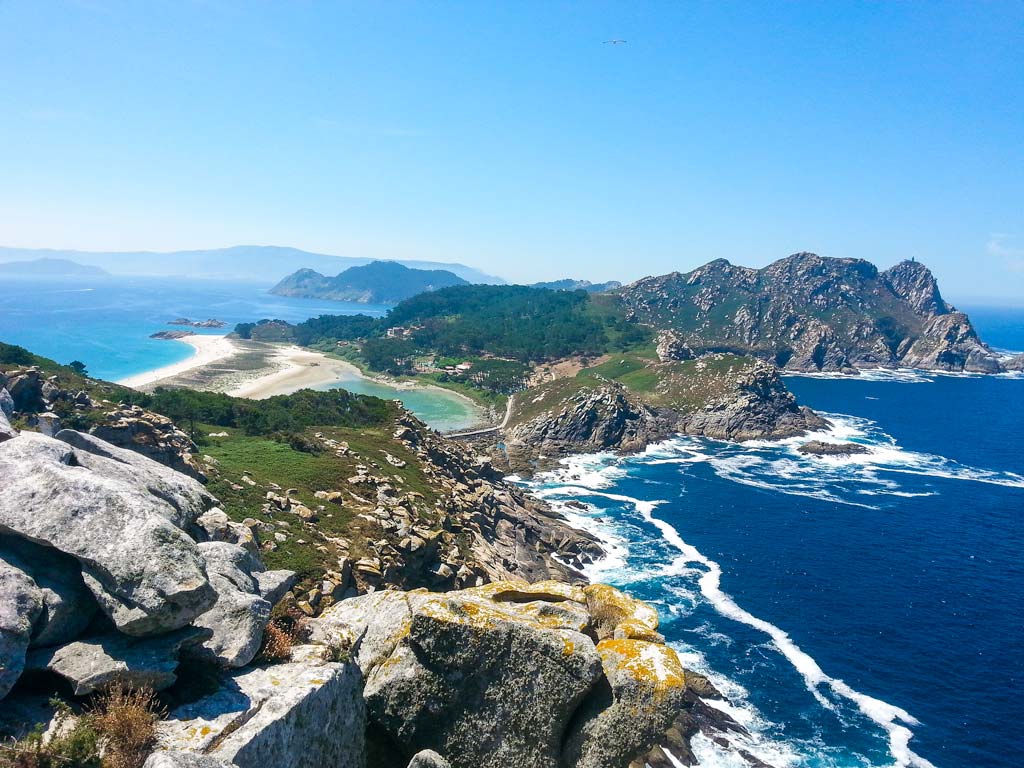 ROYAL PALACE OF EL PARDO
There's no shortage of amazing royal residences in Spain, but have you heard of the Royal Palace of El Pardo?
Built in the 15th and 16th centuries, this Renaissance-style palace is nestled in the forested area of El Monte de El Pardo, surrounded by roughly 16,000 hectares of woodland.
Throughout the years, it served as a hunting lodge, a winter palace of the Spanish monarchs, and even as the official residence of General Francisco Franco.
Inside, you'll get to marvel at its extravagant interior decor, including its furniture from the 18th and 19th centuries, paintings, tapestries, and elaborate frescoes.
The palace is located less than a 45-minute bus ride away from Madrid's center, and you can purchase your tickets here.
CAMPO DE CRIPTANA
Travelers who want to see the famous windmills of Castilla-La Mancha mentioned in Don Quixote usually visit the town of Consuegra.
But a 90-minute train ride will get you from Madrid to Campo de Criptana, which is home to the windmills that are actually the ones that inspired Miguel de Cervantes.
While in town, you can also visit the Eloy Teno Museum, wander through the Albaicin neighborhood with its white-and-blue painted houses, and tour a few wineries.
IZNAJAR
By Milijana from World Travel Connector
Postcard-perfect Iznájar in Andalucia is one of the most beautiful traditional 'pueblos blancos' and one of the best places to visit in southern Spain. It sits on a dreamy hill overlooking the lovely Iznájar lake and nearby Sierras Subbeticas Natural Park.
Typical white Andalusian homes with pretty private gardens, charming narrow streets traditionally decorated with gorgeous flowers, an old Moorish castle, and the 16th-century Iglesia de Santiago dominate the architecture of magical Iznájar.
Take your swimming suit with you and enjoy the Iznájar lake, and don't forget to take your hiking shoes to explore the trails of Sierras Subbeticas Natural Park!
The picturesque Iznajar is about 90 km from Malaga and 100 km from Cordoba. It is a must-see in southern Spain for all travel enthusiasts who appreciate authenticity, hidden gems, and unspoiled nature.
BUTRON CASTLE
Situated only a 20-minute drive away from Bilbao, you don't want to miss the fairytale-like Butron Castle, one of the best secret places to visit in Spain.
Its origins date back to the Middle Ages, but the current building was constructed in the 19th century and inspired by Bavarian castles.
Although it does not offer guided tours inside it at the moment, its picture-perfect exterior and gardens will surely win you over.
VALL DE NURIA
By Renee from Dream Plan Experience
Perfect for nature lovers as it offers the most incredible views of deep narrow gorges, rocks, rivers, and trees, you have to go hiking in Vall de Núria. Located between the Pyrenees mountains, you will be surrounded by peaks of almost 3,000 meters.
The valley has a long, fascinating history that dates back to 700 AD. Visitors can learn about the legendary tale of this sacred place and visit the original church and pilgrim hostel from centuries ago.
Arrive by car or train to the village of Queralbs. From there, take a rack railway that takes you up an incline through unspoiled mountain landscape views.
LLAFRANC
By Alexa from 52 Perfect Days
One of the most beautiful places to holiday in Spain is the coastal town of Llafranc.
It is located in the province of Girona in the Costa Brava region and is easily accessible from Barcelona. It has small fisherman villages, long and winding roads, old houses, and beautiful seaside views.
Llafranc was colonized and occupied by the Romans during the 4th century AD, so on a visit to Llafranc, make time to explore the remains of the Roman archaeological civilization.
In the remains, you can see what used to be a winery, the church of Santa Rosa, and even some of the oldest houses in Llafranc. Excavations in this area have uncovered some of the oldest homes of the civilization.
There are 4 ways to get from Barcelona to Llafranc; by train, taxi, bus, or car. Llafranc is just 80 miles (128 km) from Barcelona and a quick 1.5-hour drive.
FUENSALDAÑA
By Coni from Experiencing the Globe
It's easy to expect that most will have the fairytale Alcazar of Segovia on their travel bucket list, but if you're looking for a castle just as stunning and without the crowds, Fuensaldaña is the right place.
Located just 10 kilometers outside of Valladolid, this town only counts about 2,000 inhabitants but houses a 15th-century royal fortress in the form of a storybook castle, with a drawbridge, watchtowers, and machicolations. It's also one of the cradles of rosé wine, with the Cigales designation of origin.
It's almost impossible to reach by public transport, so the easiest way is by taxi. They're so happy to see interest in their heritage, that it's going to be much cheaper than you might think to get one to take you there and wait for you.
MATARO
By Krystianna from Volumes & Voyages
Mataro is truly one of the best hidden gems in Spain!
Located less than an hour north of Barcelona, Mataro is a small coastal town with its own fantastic beaches, restaurants, and neighborhoods waiting to be explored by travelers.
It's such a great place to visit because it's less busy than other places in the area and allows you to explore a smaller town in the country. Plus, it's one of the best day trips from Barcelona.
Some of the must-do activities here include relaxing at Mataro Beach or grabbing churros with chocolate from Xurrerria Rosita. The easiest way to get there is to get yourself to Barcelona and then either rent a car or take a bus to Mataro.
LOGROÑO
By Sojourner from Sojournies
Wine, pinchos, and the Spanish countryside, what else could you need?
Well, located an hour and a half south of Bilbao, you will find just that in Spain's wine region La Rioja and its capital Logroño. The city itself is accessible via bus or train from Madrid (roughly 4 hours).
A walkable city known for its pinchos on Calle Laurel, Logroño gives you a taste of local culture with tourists hiking the Camino de Santiago sprinkled in between.
There are also many wineries you can visit in Logroño. However, if you take the bus or rent a car, you can visit a few more in the surrounding towns such as Laguardia. El Fabulista, Marques de Riscal, and Vivanco are a few top wineries, but the list goes on and on!
ALBARRACIN
By Theo from Waffles and Lamingtons
With its narrow twisting streets, colorful buildings, and fortified walls, you'll find nothing like Albarracin across all of Spain.
It is located in the province of Teruel, a 40-minute drive from the city of Teruel or a 2-hour drive from Valencia, making it a great addition to your Spanish road trip. There is also a single bus a day from Teruel to Albarracín from Monday to Saturday.
Though the region was originally populated during the Roman Times, the city that is now settled on the hillside was built in the early 11th Century under the Arab denomination, giving an architectural style that differs from other villages in Spain.
Albarracin is regularly nominated as one of the most beautiful villages in Spain.
Some of the highlights that aren't to be missed include the Plaza Mayor, Catedral de Albarracin, Albarracin Castle, The City Wall, and of course, spending time getting lost amongst the winding streets.
More details on exploring Albarracin can be found at 'Albarracin: Guide to Exploring the Authentic City'.
CIUDAD ENCANTADA
While locals might be familiar with this unique geological site near the city of Cuenca, there's a good chance you've never heard of it, so it's a good place to start when exploring the off-the-beaten-path Spain.
Located in the Serranía de Cuenca Natural Park, the Ciudad Encantada is a natural space home to unusual rock formations dating back millions of years ago.
With a short circular route, you can explore it on your own or book a guided tour to learn more about its origins, flora, and fauna.
VALL DE GALLINERA
By Izzy & Phil from The Gap Decaders
To get totally off the beaten path as you tour Spain in a campervan, head inland from the high-rises of Costa Blanca to the authentic and beautiful Vall de Gallinera.
Just an hour from Alicante and even less from the excesses of Benidorm, this tranquil valley in the Marina Alta is spectacular.
With high rugged walls and fantastic rock formations to the south and sloping green mountains to the north, this valley epitomizes Spain.
An important cherry, almond, orange, and olive growing district, the valley is home to eight villages – Benirrama, Beniali, Benissiva, Benitaia, Carroja, Alpatro, Llombai, and Benissili.
The 'Beni' prefix comes from the days of Moorish occupation and means 'son of'. There is also a fabulous full-day walk that weaves between the villages, typical white-painted houses, and terraced fields of fruit trees.
If you're a keen road cyclist, some of the best teams in Europe train here, and if you just want some incredible views, head for La Forada, at the top of the valley – a huge rock archway that can be seen for miles. The views from there to the coast are truly spectacular.
JUZCAR
By Paulina from Paulina on the Road
Juzcar is a great place to visit to explore Spain off the beaten track.
It is always interesting to find a populated town in an isolated area of the mountains, but what makes Juzcar a wonderful place to see is that the whole town is colored in blue and is officially known as the Smurfs village.
The best part is that you can visit Juzcar on a day trip from Malaga. Some of the things to see and do here include hiking trails, culinary tours, outdoor adventures, and cultural excursions.
Tip: Do not forget to try their regional Andalusian food and absorb the original Andalusian charm.
ISLA CANELA
By Anuradha from Country Hopping Couple
Isla Canela is a natural island located south of Ayamonte and is a hidden gem in the Andalucia region of Spain. It sits next to the Guadiana River which separates Portugal and Spain.
Due to its proximity to Portugal, Isla Canela is a popular beach holiday destination among the locals. That said, the island is still an offbeat place in Spain and is unexplored by international travelers.
Apart from having a stunning coastline and the best sandy beaches (EU blue flag status), Isla Canela being based in the river basin is surrounded by natural wetlands and is a paradise in itself.
There are plenty of walking trails that take you through salt marshes and wetlands. It is also one of the best places to let the day go by and watch the sunset by the sea.
MONTGO NATURAL PARK
By Jori from The Tejana Abroad
Montgó Natural Park is the perfect place to enjoy nature away from the hustle and bustle of bigger cities. It is located near Denia, a small town between Alicante and Valencia, which is a great place to visit by itself.
From the town of Denia, you can enjoy amazing views of Montgó, but it's even better when you enter the park and explore it yourself. There are several different hiking trails at every difficulty level and many with stunning views of the sea.
In one section of the park, you can also visit Les Rotes, which are amazing caves on the sea with cool, refreshing water.
Denia is best reached by car from Alicante or Valencia, although some buses run to the city center from both cities. From there, you can take a bus to the park's entrance, although renting a car will be much easier.
SANTANDER
By Lavina from Continent Hop
When people think of a trip to Spain, they're mostly thinking of a road trip through Andalucia or a coastal getaway in Catalunya.
However, Northern Spain with cities like Santander is perfect for people looking for a hidden city break, mild weather, and lots to do.
In Santander, there are numerous pubs serving some of the best tapas in the country. The beaches are ideal not just for walks and dips but also for surfing. About 2 hours away, you can also go skiing and hiking in the Picos De Europa National Park.
The city is also budget-friendly and has excellent architecture and museums to explore on a rainy day. It is well connected to most major airports and can also be reached by train from other Spanish cities. You could also get here by ferry.
Read more about Valencia:
Read more about Madrid:
---
---
SPAIN OFF THE BEATEN PATH: UNDERRATED PLACES ON ITS ISLANDS
CUEVAS DELS HAMS
By Ania from The Travelling Twins
Cuevas dels Hams is one of the most beautiful caves in Mallorca.
It's located just before Porto Cristo and can be a great alternative to the famous Cuevas del Drach (especially if you're looking for something less crowded but still get a chance at exploring some interesting rock formations).
The cave took its name from stalagmites that resemble fish hooks – ham means fishing hook in Catalan! It contains various rooms and an underground lake with an incredible music show and time-lapse projections on the walls called Digithams.
A visit to one of the most intriguing places amongst Spain's hidden gems, Cuevas dels Hams, will definitely be one of your favorite stops on a family holiday in Mallorca.
JARDINES DE ALFABIA
When visiting Mallorca, a popular attraction is taking the vintage train from Palma to the town of Soller. Instead of booking a round trip, do yourself a favor and get back to Palma by bus (204), stopping at the Moorish-era Alfabia Gardens.
The complex not only includes beautiful gardens, which boast a harmonious scenery of palm trees, ponds, fountains, shrubs, and flowers (and much more), but also a villa decorated in several styles.
One of the highlights of this place is the charming open-air cafe area, which overlooks the garden.
More on Mallorca:
ESPALMADOR ISLAND
By Nadine from Le Long Weekend
Situated a stone's throw from Formentera, the tiny island of S'Espalmador is an uninhabited oasis in the Mediterranean. Privately owned but publicly accessible, it's a popular day trip from the smallest Balearic Island or its larger sibling Ibiza.
A quick boat trip from the port in Formentera will have you at the island in just half an hour. Once you arrive, there's little to do but swim, sunbathe, and take a leisurely walk in your exquisite surroundings.
The expansive main beach where you'll arrive will captivate you with its pink sand and crystalline waters. You can also trek to the other side of the island to find a sandy cove that's even more tranquil and serene.
On the way back, jump off the ferry at Ses Illetes beach and enjoy a meal beachside at the Es Minister bar.
MASCA VALLEY
By Ophelie from Limitless Secrets
Masca Valley is a hidden gem in Spain located in Tenerife, a beautiful island part of the Canary Islands. Masca is a little village nestled in a narrow valley within the Teno Massif.
Thanks to an exceptionally scenic location, Masca Valley is one of the most Instagrammable places in Tenerife!
One of the best things you can do in the Masca Valley is to admire the scenic views. It's especially beautiful at sunset! Take the time to wander in the village, and a few restaurants are available here if needed. You can also hike down the Masca Gorge!
Masca Valley is located in the northwest of Tenerife, so the best way to get there is by car as it's quite remote.
Read more about Spain:
Related posts:
Were you inspired by my secret Spain? Pin this post for later using the share icon on the right bottom corner!