This post may contain affiliate links, which means I earn a commission if you purchase from them (no extra costs to you!). For more information, check out my disclosure. As an Amazon Associate, I earn from qualifying purchases.
Hands down, Madrid is my all-time favorite destination to visit in Spain. No other place makes me feel so at home and at the same time continues to excite and surprise me like Madrid. From urban architecture, street art, and modern cool cafes and restaurants to old town streets, historical buildings, and authentic food experiences, Madrid has it all. Since I am a person who wants to experience it all, I had to find some non touristy things to do in Madrid.
So if you're like me and you can't just stay with the usual bucket list of visiting the Royal Palace and Puerta del Sol, here are some fresh alternatives for this fantastic city.
Looking for more Madrid travel tips? Here's where to stay in Madrid, what to pack, and my awesome 2-day Madrid itinerary!
---
---
THE BEST ALTERNATIVE AND NON TOURISTY THINGS TO DO IN MADRID
TAKE AN INCREDIBLE FREE WALKING TOUR IN THE ARTS QUARTER
One of the best experiences I've had in Madrid was an amazing free walking tour in the arts quarter (also known as the literary quarter or Barrio de las Letras). This is the neighborhood where many Spanish authors, playwrights, painters, and other cultural figures have lived and created some of their most influential works.
If you want to hear the most fascinating (and funny) stories and anecdotes about the neighborhood and about cultural icons like Cervantes and Lorca, you have to take this tour.
From rivalries to war stories to love stories, I've learned so much. It was far from being a boring history lesson, and I enjoyed every second of it.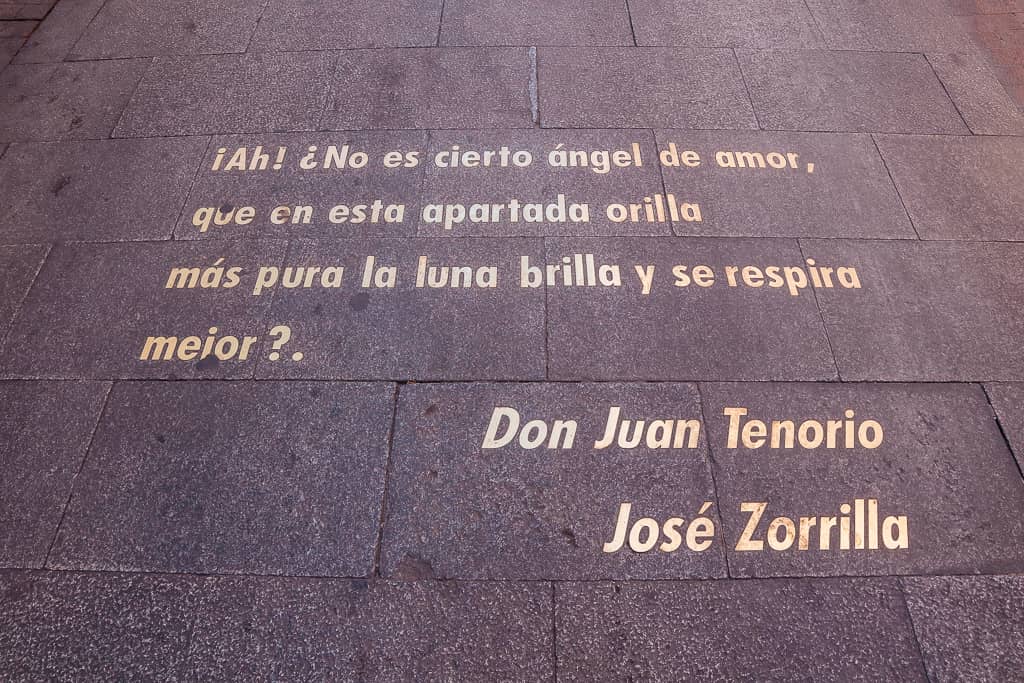 You can and should also explore Barrio de las Letras on your own because it is absolutely beautiful, but don't pass on the opportunity to visit it with a guide. For more details and to book this free tour, click here. Also, check out these incredible walking tours in Madrid you have to take!
Good to know: Like most free tours, you're welcome to leave a tip. What's impressive is that the operator of this tour in Madrid, Strawberry Tours, takes these donations and invests them in the local community.
TAKE OTHER ALTERNATIVE AND QUIRKY TOURS
Mix it up and instead of the basic walking tour take a tour that will show you another side of the city. Here a few highly-rated tours you might find interesting:
Spanish Inquisition Walking Tour
Discover a darker side of Spain's history while visiting specific sites connected to that institution. If you're looking for unconventional things to do in Madrid, this tour sounds like a great option. Book this tour here!
Lavapies Neighborhood Tour
Lavapies often gets overlooked, but it's a fascinating multicultural spot in Madrid you have to explore. If you want to visit this neighborhood with a guide, book this tour!
Street Art Tour
You can find some incredible street art in Madrid, and if you want to learn more about it from a local guide, this tour can be a good option. Check prices and book it here.
Chocolate and Churros Walking Tour
Well, it's a chocolate and churros walking tour. Isn't that enough? Check out all the details and book this tour here!
Madrid's Alternative Side Tour
Lesser-known neighborhoods and hidden gems? It's the definition of what I like to see in a city. Read reviews and check the latest prices here.
GO ANTIQUE SHOPPING AT GALERIAS PIQUER
As I've mentioned, El Rastro has to be one of the most popular markets in Madrid. But there's one part of it that's completely overlooked even though it's right under people's noses – the complex of Galerias Piquer. I discovered it on an amazing Spanish Instagram account called 'Secretos de Madrid' and immediately fell in love.
If you look to your side at the right corner, you'll see the entrance to this gorgeous patio, which is surrounded by antique shops. It's the perfect spot to escape the crowds, see some impressive items like old chandeliers and marble sculptures, and take some beautiful pictures.
Address: Calle de la Ribera de Curtidores, 29.
Opening hours: Monday – Friday from 11 AM to 2 PM and from 5 PM to 8 PM. Saturday – Sunday from 11 AM to 2 PM.
STEP BACK IN TIME WITH MADRID'S UNUSUAL UNDERGROUND MUSEUMS (ANDEN 0 PROJECT)
Anden 0 is a unique group of underground museums in Madrid's Metro. In Chamberi Square, for example, you'll find a ghost station that was closed in the '60s, and in Chamartín station, you'll find an exhibition of historical Metro trains. In the Opera station, you'll even get to visit an archeological museum. Cool, right?
For the full list of Metro museums and their opening hours, read here. You'll be happy to know that you can visit all of them for FREE.
VISIT A FEW PALACES BEYOND THE ROYAL PALACE
Who said that the Royal Palace was the only one in Madrid? Although not all of them are open to the public, here are several that you can visit.
Museo Cerralbo (Calle de Ventura Rodríguez, 17)
The home of the Marquis of Cerralbo, this palace museum will give you an intriguing glimpse into the life of an aristocratic family in the late 19th century in Madrid. Consult prices (on some days, admission is free) and opening times here.
Palacio de Liria (Calle de la Princesa, 20)
The House of Alba was an important aristocratic Spanish family and this 18th-century building was its official residence in Madrid. You can now visit the palace and marvel at its rooms and impressive European art collection.
Buying tickets to the Liria Palace: Know that you have to book your ticket online as you need to pick a specific timeslot for your visit. On Monday mornings, admission is free, but you still need to reserve your spot in advance online.
GO MALASAÑEANDO
Whenever I travel to a big city, I always like to explore its different neighborhoods and see what they have to offer, and Madrid's neighborhoods did not disappoint; each one has its own rhythm, style, and flavor.
The one that stood out to me was Malasaña, Madrid's hipster neighborhood. It is all about trendy cafes, unique shops, and urban art, combined with a vibrant, young, and free vibe. After seeing a lot of the traditional Madrid, it was exciting to experience another side of it.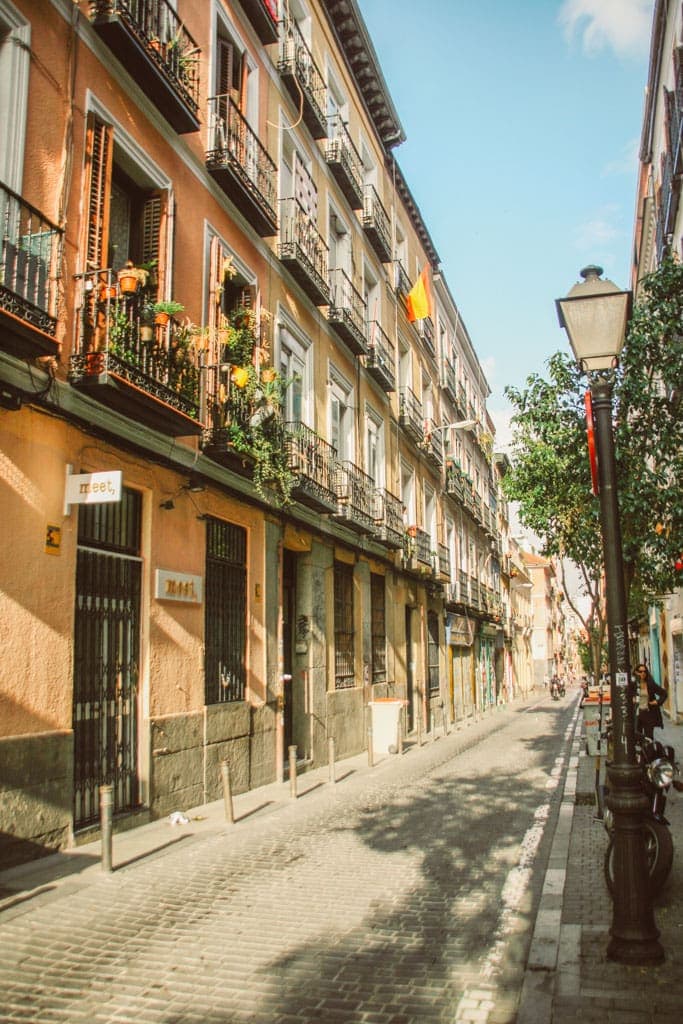 Start your day with breakfast in one of Malasaña's stylish cafes like Ojala or HanSo Cafe, where you can enjoy the atmosphere and decor as well as the food. After you are full and satisfied, take your time and wander around Malasaña's colorful streets.
How to get there: Malasaña is located around Plaza Dos de Mayo. The Metro stations in the neighborhood are Tribunal (Line 1 and Line 10) and Noviciado (Line 2).
Recommended streets and squares to explore: Calle del Espiritu Santo, Calle del Pez, Calle de la Palma, and Plaza del Dos de Mayo.
VISIT A FEW LESSER-KNOWN MUSEUMS
There are dozens of museums in Madrid, so I obviously don't expect you to visit each and every one of them. But if want to have a few offbeat options, check out:
Museum of Romanticism (San Mateo, 13)
This house museum showcases the everyday life in Madrid during the artistic period of the Romanticism through a collection of 19th-century paintings, sculptures, furniture, and more.
ABC Museum of Drawing and Illustration (Amaniel, 29)
Housed in a 19th-century building that used to be a brewery, this cultural space hosts dozen of events and changing art exhibitions. Plus, it is completely free to visit!
Museo del Ferrocarril (Paseo de las Delicias, 61)
If you want to learn about Spanish railway history and discover a unique collection of old trains, the Railway Museum is for you! On the second weekend of every month, it also hosts a vintage market, called Mercado the Motores.
VISIT AN OLD BOOKSTORE
Whether you are a bookstore lover or just looking for alternative things to do in Madrid, this place is a must-see. From the outside, the 70 years old Libreria Bardon has an ordinary-looking bookstore facade.
But once you walk through the door, you will feel like you stepped back in time; thousands of books from centuries ago perfectly lined up; antique wooden bookcases; the smell of old paper. After a few minutes taking it all in, comes the realization of how much history is gathered in that one small magical space.
Address: Plaza San Martin 3.
How to get there: Opera Metro station (Line 2 and Line 5).
EXPLORE LA LATINA NEIGHBORHOOD BEYOND THE TAPAS BARS
La Latina neighborhood is most known as the queen of traditional restaurants, taverns, and bars, making it extremely popular during evenings and weekends.
However, that is not the only thing traditional about it. It is full of enchanting old streets and alleys, beautiful squares and old churches. So before devouring some tapas, take the time to stroll around and soak up some old town charm.
How to get there: La Latina Metro station (Line 5).
Recommended streets and squares to explore: Calle Cava Baja, Calle Cava Alta, Calle de Cuchilleros, Arco de Cuchilleros, Plaza Paja, Plaza de los Carros, Plaza Conde Barajas, and Plaza de la Villa.
VISIT AN ALTERNATIVE MARKET – MERCADO DE LAS RANAS
I love wandering around local markets when I'm traveling, and Madrid is full of different types of markets you can visit. You've probably heard of the famous El Rastro Sunday market, but what about Mercado de las Ranas ('The Market of the Frogs')?
Whether you want to buy artisanal products or just look for some inspiration, this street market is the place for you. While I do love hunting for knickknacks from time to time, here you'll find quality items.
When the market takes place, you'll also see the local restaurants offering discounts or special menus. It is about attracting visitors to the area and supporting the businesses in the neighborhood.
When: The first Saturday of each month.
Where: Lope de Vega Street and its surroundings (Barrio de las Letras).
Tip: If you're looking for other unique things to do in Madrid, the city hosts other alternative markets (most of them also take place only once a month) like Mercado de Motores, Mercadillo del Gato, Mercado del Juguete, and Malamarket.
DISCOVER SOME OF MADRID'S SECRET GARDENS
I'm obsessed with hidden courtyards and gardens. There's something mysterious yet magical about them, and discovering one gives me a little moment of joy. Here are a few to check out in Madrid:
Príncipe de Anglona Gardens (Plaza de la Paja, 6)
This small yet adorable garden is located right in the heart of the city. The original garden was actually created in the 18th century, but the current one still maintains the primary beautiful layout.
Huerto de las Monjas (Calle del Sacramento, 7)
Translating to 'The Orchard of the Nuns,' this hidden gem was indeed a vegetable garden of an old convent. To access it, you'll need to pass the red little gate and walk down the stairs leading to this secluded oasis.
HAVE SOMETHING TO EAT AT MERCADO SAN ANTON
Eating at an indoor food market is one of the trendiest things to do in Madrid. After visiting a few of them, I have to say that my favorite is Mercado San Anton.
Located in the heart of Chueca Neighborhood, this three-floor market offers a great combo: a traditional market, food stalls, and rooftop restaurant and bar.
For a perfect afternoon, have a late lunch, grab some dessert (yes, there are a few sweet stalls as well!) and finish off with a drink in your hand, relaxing and admiring the views. Read this post for more info about other food markets in Madrid.
Address: Calle Augusto Figueroa 24.
How to get there: Chueca Metro station (Line 5).
Opening hours: Every day, 10 AM-12 AM.
EXPLORE THE NEIGHBORHOOD OF LAVAPIES
With such ethnical diversity, the neighborhood of Lavapies is considered the multicultural heart of Madrid. At first sight, it seems a lot less glamorous than other areas in Madrid, but traveling is not about perfection.
After taking a closer look, you'll find colorful streets and murals, lovely old buildings, and a variety of restaurants and bars.
Lavapies also offers several interesting things to do and see:
La Tabacalera (Calle de Embajadores, 53)
Tabacalera is an old tobacco factory, now functioning as an artistic and cultural space. Within the project 'Muros Tabacalera,' its exterior walls have become a spot where everyone can enjoy beautiful urban art. Once every couple of years, these murals are repainted, so hopefully, you won't visit when they're covered in white.
La Casa Encendida (Ronda de Valencia, 2)
It is an amazing building from the 19th century turned into a social and cultural center that hosts exhibitions, concerts, and more.
Corrala del Somberete (Calle del Sombrerete, 13)
Corralas are traditional apartment buildings with a central patio connecting them together, and this patio is the residents' social hub. Corrala del Somberete is one of several corralas you can find in Lavapies, and it is also a National Monument.
Mercado de San Fernando (Calle de Embajadores, 41)
San Fernando Market is another great indoor food market in Madrid, yet a lot less touristy one.
VISIT QUINTA DE LOS MOLINOS PARK
As beautiful as the famous El Retiro Park is, it is not the only green area in Madrid. This city has a long list of parks to offer to anyone looking for some tranquility and change of scenery.
An incredible park on that list is Quinta de los Molinos, a park that comes to life during March and April when the almond trees in the park are blooming in all their glory.
Unfortunately for me, during my visit in April, a few rainy days have washed away all flowers. However, the park was lively and green, and the trees were gorgeous even without a single flower on them, so the visit to the park was still worth it.
How to get there: The entrance to the park is right next to Suanzes Metro station which is on Line 5.
DISCOVER SOME OF MADRID'S SWEETEST STORES AND PATISSERIES
As chocolate and dessert addict, no matter where I travel, I am always in search of chocolate shops and patisseries. If you want to experience Madrid off the beaten path and you are a sweet lover like me, you have to visit these irresistible shops.
Turrones Vicens (Calle Mayor 41)
Turrones Vicens is a family-owned company since 1775, master in Spanish nougats called Turrones. The turron is made of honey, sugar, egg whites, and toasted nuts or almonds. At the store, you can find traditional nougats, chocolates, and other specialties.
Cacao Sampaca (Calle Orellana 4)
High-quality chocolate and unusual, exciting flavor combinations are what you will get at Cacao Sampaca. Prices are not cheap, but the products here are worth it. More stores of Cacao Sampaca can be found in Barcelona and Valencia.
Chocolala Belga (Calle del Bonetillo 1)
This charming little hidden gem in Madrid is located right in the heart of the city center, but I stumbled upon it by total accident. I was walking through a narrow, quiet street when suddenly a shop sign saying 'chocolate' caught my eyes.
The shop is quite small, but somehow it gives you the feeling of being in a chocolate wonderland, especially with the smell of melted chocolate surrounding you.
Santa Eulalia (Calle Espejo 12)
Located on a quiet street in Madrid's city center, you can easily pass this cafe-patisserie by. Its facade is very minimal but inside hides a beautiful place with rustic yet modern decor and a homely atmosphere. I had the cheesecake with raspberries, and it was spot on.
Le Bec-Fin (Calle de Claudio Coello 58)
Located in Salamanca neighborhood, this cute little patisserie is the perfect non-touristy spot to get away from the crowds in the city center.
I had the apple-shaped dessert, which surprisingly had citrus flavors, and I have to say that it was the most delicate dessert I have ever tasted. I would definitely go back for one more bite!
Moulin Chocolat (Calle de Alcala 77)
Another great patisserie, offering a large variety of products (desserts, macarons, truffles, and more). It's only a takeaway place, but you can enjoy their goodies while sitting in Retiro Park which is located right next to the shop. I had the pistachio and raspberry eclair, and it was heavenly.
TAKE AN ALTERNATIVE DAY TRIP FROM MADRID
The most popular day trips from Madrid are usually Toledo and Segovia. However, if you're looking for an 'out of the box' day trip from Madrid, consider visiting Patones de Arriba or Buitrago de Lozoya.
Buitrago the Lozoya is a charming medieval town that and a Spanish Cultural Heritage Site where Christians, Jews, and Muslims used to co-exist.
Things to do and see in Buitrago de Lozoya:
Buitrago del Lozoya Castle.
Church of Santa Maria del Castillo.
The Arab walls.
A Picasso Museum that contains a few original works of Pablo Picasso.
There are several other alternative day trips that you can take from Madrid, but Buitrago de Lozoya is easily reachable by public transportation.
How to get there: Bus 191 (timetable here) goes from the subterranean part of Plaza Castilla in Madrid to Buitrago de Lozoya. It takes about 90 minutes to get there, depending on traffic.
---
---
Do you know other non touristy things to do in Madrid? Share them in the comments!
Pin for later, and continue reading all my posts about Madrid here!