I will never forget my road trip from Lisbon to Porto – it was spontaneous, I had the best company, and I discovered a destination full of magic.
Each stop on this road trip was special and had its own charm, and together they formed a memorable journey.
If you want to enjoy the most scenic drive from Lisbon to Porto, here are ten amazing places you should visit along the way.
*Please consult the constantly-changing local restrictions and safety guidelines before making any travel plans. Note that not all sites and services operate as normal, so check the latest updates on their correspondent websites.
*This post may contain affiliate links from which I earn a commission at no extra cost to you (for more info, read my disclosure). As an Amazon Associate, I earn from qualifying purchases.
Check out these cool free walking tours you can take in Lisbon (there are more than 5 of them!) and free walking tours you can take in Porto.
---
---
LISBON TO PORTO ITINERARY SUMMARY AND MAP
Driving from Lisbon to Porto took us about 5 days (with all of the stops), not including 2 days in Lisbon at the beginning and about one day in Porto at the end.
You can add 1-3 days to explore some of these places (like Lisbon, Sintra, and Porto) more slowly, but this is my itinerary:
Days 1 + 2: Lisbon (suggested accommodation: Hotel Miraparque in Lisbon – not very central but has good parking options).
Day 3: Cabo da Roca + Sintra (suggested accommodation: Hotel Nova Sintra in Sintra).
Day 4: Cabo Carvoeiro + Obidos + Mira de Aire Caves (suggested accommodation: Residencial Uniao or Thomar Boutique Hotel in Tomar. Note that it is also possible to book a stay at the Castle of Obidos).
Day 5: Tomar + Coimbra (suggested accommodation: República Guest House in Coimbra).
Day 6: Coimbra + Buçaco Forest + Espinho (suggested accommodation: Hotel Apartamento Solverde in Espinho).
Day 7: A Port wine tour in Vila Nova de Gaia + Porto (suggested accommodation: Gardenia Aparthôtel or Gallery Townhouse & Home in Porto).
Day 8: Porto + driving back to Lisbon. If you want to spend one more day in Porto, consider taking a day tour to the Douro Valley.
Click here to access the My Maps interactive map of this Lisbon to Porto drive.
---
---
AWESOME STOPS ON A ROAD TRIP FROM LISBON TO PORTO
CABO DA ROCA
Cabo da Roca is the westernmost point of mainland Europe, so you can understand why it's a must-have stop on your Portugal road trip.
The scenery in this unique spot in Portugal is unbelievable. The panoramic views of the Atlantic coast and the jagged cliffs are something I'll never forget. It's one of those moments when traveling can literally make you cry.
Cabo da Roca is also a part of the Sintra-Cascais Natural Park. So if you're in for something active, the walking trails in Cabo da Roca lead to beaches, villages, and viewpoints in the area.
Heading north, you can walk along the coastline to small villages like Azenhas do Mar or to Praia da Aroeira, Praia da Ursa, Praia da Adraga, and Praia Grande, which are some of the most beautiful beaches in Portugal.
On the southern cliffs of Praia Grande, you can even see fossilized dinosaur footprints.
Tip: After soaking it all in, head to the gift shop to purchase your personalized certificate confirming you have visited Cabo da Roca. I know it's super cheesy, but it's the type of souvenir you just got to have.
How much time to spend there: a couple of hours to half a day, depending on whether you'll take hikes.
SINTRA
With countless photos of Sintra's most iconic landmark, the Pena Palace, Instagram has definitely put this charming city in Portugal on the map.
You'll need at least one day to experience the best of it, but I have a feeling you'll want to stay there a little longer. Here are some of the best things to see in Sintra.
Important tip: There are many ways to get around the city. To learn about all your options, read this full guide about transport in Sintra.
Check out this highly-rated tour of Sintra's hidden gems or this FREE tour of Sintra.
SINTRA'S HISTORIC CENTER
Pastel-colored houses, orange roofs, and winding streets? Sounds pretty perfect to me. I love historic centers, and there's no better way to explore them than strolling around without any specific destination.
PALACIO NACIONAL DE SINTRA
Don't let the modest (well, relatively modest) facade of Sintra's National Palace fool you. You might think it's just another historical building, but it is the best-preserved medieval royal palace in Portugal.
This little beauty was continuously inhabited from the 15th century to the late 19th century (though its history traces back to the 10th century), and today, it's a museum that allows you to visit some of its most impressive rooms.
To skip the lines, get your ticket to the National Palace of Sintra in advance.
CASTELO DOS MOUROS
Ancient castles are always fun to visit, but with unforgettable panoramic views, the Castelo dos Mouros has to be one of my favorites.
It was built in the 8th and 9th centuries by the Moors, but later on, the Christians conquered and remodeled it several times.
The earthquake in 1755 severely damaged it, but King Ferdinand II restored it and turned it into the Romantic-styled ruinous castle that it is today.
To skip the lines, get your ticket to the Castelo dos Mouros in advance.
PALACIO NACIONAL DA PENA
Although it has become a major tourist attraction (which means it can get annoyingly crowded sometimes), the Pena Palace is a UNESCO World Heritage Site that has to be a part of your road trip through Portugal.
The building was built in the 19th century when King Ferdinand II decided to transform the remains of an old monastery into a Romantic-styled palace.
As a person who loves visiting fairytale-like places, I want to thank him for this decision. The architecture, the colors, and the views have completely won me over, and I would gladly live there. I mean it.
Since the palace has become a super popular site, be sure to book your ticket in advance.
OTHER PLACES TO SEE IN SINTRA
If you want to spend more than one day in Sintra, there are a few other famous landmarks you should visit.
1.
Quinta da Regaleira
I had only seen this 20th-century Gothic-style estate on the outside and thought it was absolutely magnificent.
This UNESCO site is also known for the vast park surrounding the palace, where you'll find lakes, fountains, decorative benches, and even tunnels and caves.
2.
Palacio de Monserrate
This 19th-century palatial villa showcases an intriguing mix of Moorish, Gothic, and Indian architectural styles, and it's surrounded by beautiful gardens. Skip the lines and get your ticket in advance.
3.
Convent of the Capuchos
Dating back to the 16th century, it's also known as the 'Cork Convent' because most of it is covered and decorated with cork.
This convent is notable for being extremely small and simple, and it'll give a glimpse into the poor and isolated life of the monks who used to live there.
4.
Seteais Palace
An 18th-century palace turned into a luxury hotel, this place is a national landmark and a UNESCO World Heritage Site.
IMPORTANT TIP
If you're planning to visit multiple sites, you can get a discount on the official website.
Simply add your tickets to the cart, and you'll automatically see a discount of 5% or more at checkout, depending on which and how many places you're visiting.
Where to stay in Sintra: With a great location, a lovely terrace, beautiful views from the rooms, and a wonderful breakfast, Hotel Nova Sintra ticks all the boxes. Read more and book it here.
How much time to spend in Sintra: 1-2 days.
CABO CARVOEIRO
If Cabo da Roca is not enough for you and you need more scenic cliff views in your life, visit Cabo Carvoeiro, the westernmost point of the Peniche peninsula.
With views over the Atlantic coast, the Berlengas archipelago, and a unique limestone formation called Nau dos Corvos (Carrack of Crows), I can safely say that Cabo Carvoeiro is the ideal spot to start your morning or watch the sunset.
Another incredible thing to appreciate in this place is the Lighthouse of Cabo Carvoeiro. Believe it or not, it was built in 1758, remodeled at the end of the 19th century, and it's still active today!
How much time to spend there: A couple of hours.
OBIDOS
There's no other way to describe the town of Obidos than picture-perfect. I instantly fell in love with its cobbled streets and white houses with pops of color, and its medieval castle and walls were a huge bonus.
In fact, if you love to find castles you can stay in, don't miss out on booking a night at the Castle of Obidos.
Other landmarks in Obidos include the Porta de Vila (the main gateway into Obidos) and the Santa Maria church.
It's definitely one of the one the prettiest medieval towns in Europe, and what it lacks in size it makes up for in beauty.
Tip #1: An experience still on my bucket list is the medieval market that takes place every July in Obidos. Essentially, it's one massive party that includes medieval costumes, taverns, music, and a lot more.
Tip #2: As a huge chocoholic, another festival that I'm eager to attend is the International Chocolate Festival in Obidos. I don't know about you, but chocolate sculptures, live chocolate-making demonstrations, and chocolate workshops sound like paradise to me. The festival takes place around April, but dates vary from year to year.
How much time to spend there: Half a day.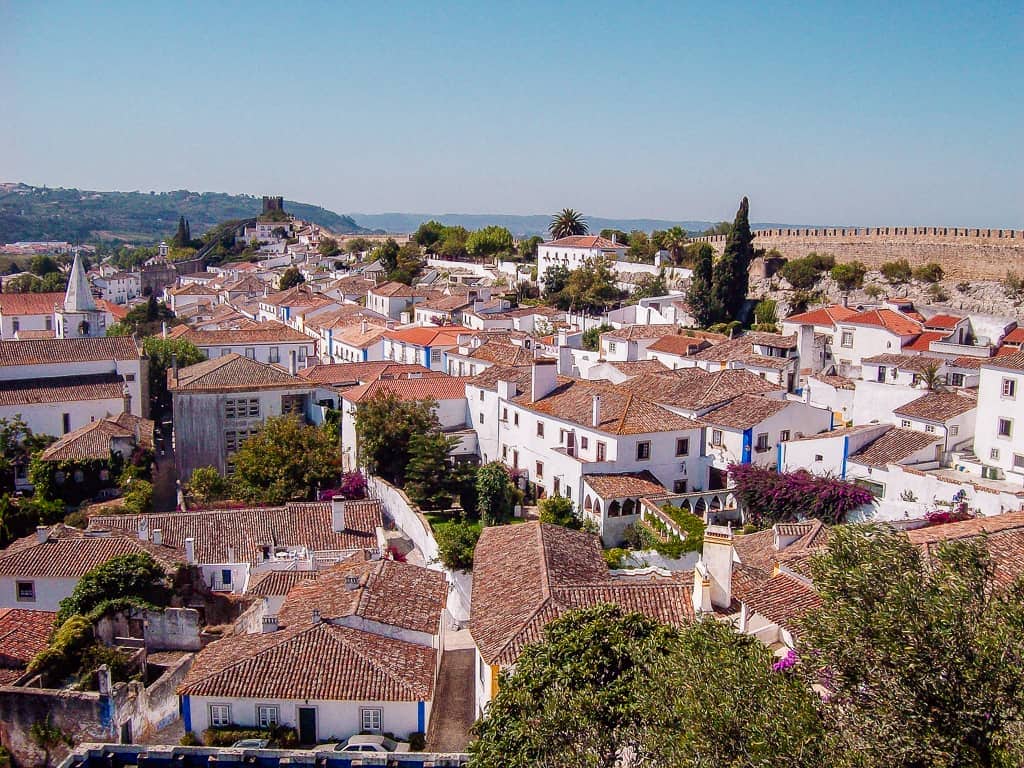 MIRA DE AIRE CAVES
When you're traveling from Lisbon to Porto by car, you're not limited to the usual touristy spots. If you love offbeat experiences (as I do), then the caves of Mira de Aire are a Portuguese hidden gem that should definitely be on your itinerary.
Dating back to 150 million years ago (AMAZING!), they are the largest caves in Portugal and one of the 7 Natural Wonders of Portugal. Funny enough, the locals only discovered them in 1947.
The site is open EVERY DAY, and all visits to the caves are guided and scheduled as visitors arrive.
Opening hours:
October to March – from 9:30 a.m. to 5:30 p.m.
April to May – from 9:30 a.m. to 6:00 p.m.
June and September – from 9:30 a.m. to 7:00 p.m.
July and August – from 9:30 a.m. to 8:00 p.m.
Price: 6,90 €.
How much time to spend there: A couple of hours.
TOMAR
I genuinely enjoyed visiting the Portuguese city of Tomar and its crowning glory, the Convent of Christ.
Dating back to the 12th century, this impressive UNESCO Site was the seat of the Knights Templar, and later on, of the Knights of the Order of Christ.
The convent's complex also includes the Templar castle of Tomar and its walls, which at the time were more resistant and advanced than other military set-ups. Its wealth in the 15th century was also used for Prince Henry the Navigator's journeys during Portugal's Age of Discovery.
From its rich history to the extremely intricate architectural details to the views over Tomar, this Portuguese landmark is one of the best places to visit between Lisbon and Porto.
Opening hours: October to May from 9 a.m. to 5:30 p.m. (last entry at 5 p.m). June to September from 9 a.m. to 6:30 p.m. (last entry at 6 p.m).
Price: 6,00 €.
Do you love visiting places with knight history? Your next destination should be Malta or Romania!
While the Convent of Christ is Tomar's most iconic landmark, the highlight for me was the city itself. Yes, it's full of charming streets, but to me, it's the relaxed and cozy atmosphere that makes Tomar such a memorable place.
Besides strolling around the city, you should visit Tomar's old synagogue (which dates back to the 15th century), Mouchão Park, and the Church of São João Baptista.
For an 'out of the box' activity (because that's what I live for), visit the unusual and quirky matchbox museum (Museu Dos Fosforos).
Bonus tip: One of Tomar's traditional local sweets is called Beija-me Depressa ("kiss me quick"), and the only shop that makes these treats is Estrelas de Tomar (Serpa Pinto, 12). Just for the name of this dessert, you know you have to try it.
Where to stay in Tomar: I loved staying at Residencial Uniao. It is a really cute guesthouse with a perfect location on a lively main street. Browse prices and availability here.

Alternatively, check out the highly-rated Thomar Boutique Hotel (suitable for traveling by car).
How much time to spend there: 1 day.
COIMBRA
Coimbra is mostly known for being home to one of the oldest and most beautiful universities in Europe (which you can visit with a guide), but there's so much more to do and see in this gorgeous city.
From this free walking tour to the 13th-century Se Velha cathedral and the botanical gardens to Fado de Coimbra concerts and the fantastic culinary scene, you will not be bored in Coimbra.
Where to stay in Coimbra: For one night, you'll enjoy staying at the cozy República Guest House, which has an amazing location near the university. Browse its latest prices here.
How much time to spend there: Half a day – a day.
BUÇACO FOREST
To me, a road trip has to include some natural landscapes, so the Buçaco Forest had to be on my Lisbon to Porto itinerary.
This incredible place is home to more than 250 species of trees and shrubs (some are hundreds of years old), and there are six walking trails that allow you to explore it.
Apart from the green scenery, you can also find lakes, fountains, and small chapels built by the monks of the Order of Discalced Carmelites.
Some of the forest's highlights are the fountain of Fonte Fria, the Convent of Santa Cruz, and the Buçaco Palace.
I find the palace particularly visit-worthy, thanks to its exquisite architecture and gorgeous gardens.
It was built in the late 19th century as a royal residence, and today, it is a luxury hotel (and I personally wouldn't mind spending a night there).
How much time to spend there: Half a day.
Want to stay in this stunning hotel? Book a night at the Buçaco Palace!
ESPINHO
Don't forget that Portugal is also home to amazing beaches, so before arriving in Porto, stop for some time in the sun in the resort town of Espinho.
The town's main beach, Praia Baia, is a paradise for those who are searching for serenity as well as for surfers. It's also an incredible spot to watch the sunset or take a quiet walk.
If you're there on a Monday, check out Espinho's outdoor market (on Avenida 24). It's one of the largest weekly markets in Portugal, selling everything from fruit to clothing to ceramics.
Where to stay in Espinho: Hotel Apartamento Solverde is a great apartment hotel sitting right on the beach (the views from the balcony were priceless). Check its latest prices and read reviews here.
How much time to spend there: As much as you want to enjoy your time relaxing.
VILA NOVA DE GAIA
Many people think it's a part of Porto, but Vila Nova de Gaia is the city sitting on the other side of the River Douro (and providing picture-perfect views of Porto).
It is THE place for Port wine tasting, and the cellar I decided to visit was Graham's Lodge. From the views to the informative tour to the wine itself, it was an amazing experience and I 100% recommend it.
To visit Graham's Lodge, you need to make a reservation in advance here.
You can also book individual tours in other wine cellars like Calem cellar, Pocas cellar, Burmester cellar, and many others.
If you want to visit several lodges with a local guide, you can also take a guided Port wine walking tour.
How much time to spend there: Half a day to a day.
You might also like: Obidos photo diary.
---
---
OTHER PLACES BETWEEN LISBON AND PORTO I WISH I COULD HAVE VISITED
As much as I dislike prioritizing some places over others when planning a road trip, it's better to see less and enjoy more than squeeze too much into your itinerary. So apart from the fantastic stops I've already mentioned, here are a few more I would have liked to add.
NATIONAL PALACE OF QUELUZ
This little 18th-century Baroque beauty used to serve as a royal residence. Known for its impressive gardens and luxurious rooms, it's a palace near Lisbon I would have loved to visit. If you're adding it to your itinerary, skip the lines and get your ticket in advance.
MONASTERIES OF ALCOBAÇA AND BATALHA
The 12th-century Alcobaça Monastery and 14th-century Batalha Monastery are both UNESCO World Heritage Sites that boast not only centuries of history but also exquisite Gothic architecture.
Located only a half-an-hour drive away from one another, it seems impossible to visit just one of them.
BACALHÔA BUDDHA EDEN
While an oriental garden doesn't sound like a place you'd be eager to visit in Portugal, this one is the largest in Europe, and a few photos of it are enough to understand that it is a unique spot.
With 35 hectares (86 acres) housing hundreds (if not more) of buddhas, pagodas, and terracotta statues, I really wish I would have seen this garden with my own eyes.
AVEIRO
Known as the Venice of Portugal, I would have loved to spend a day in Aveiro, taking a boat tour through its canals, visiting its salt mines, and wandering through its streets.
CASTLE OF SANTA MARIA DA FEIRA
Probably not as known to international travelers as it is to locals, the Castle of Santa Maria da Feira has won me over and I haven't even seen it in real life.
Considering the fact that it dates back to the 9th century and that its architecture is so fairytale-like, I don't know why it wasn't on my agenda.
---
---
GENERAL TIPS FOR HAVING THE BEST LISBON TO PORTO ROAD TRIP
WHEN TO VISIT
I visited Portugal in early fall when the weather was pleasant and it wasn't overcrowded with tourists.
For these reasons, I believe spring would also be a great time to visit (though some people even consider it a great winter destination in Europe).
Still not sure when to plan your trip? Here's the best time to visit Portugal!
MORE ABOUT LISBON
Want some more tips for Lisbon? Here are 30 beautiful sunset spots in Lisbon you need to check out and the best free things to do in the city!
WHAT TO PACK
Wondering what to pack for your journey? Here's the ultimate road trip packing list and a Lisbon packing list!
DRIVING TIPS
Read this guide for all the info about driving in Portugal.
Do you love European road trips? Check out:
---
---
Have these places to stop between Lisbon and Porto inspired you? Pin this post for later using the share icon on the right bottom corner!