If you're looking for the best cities to visit in Poland and wondering what you can see in this country, this post is for you.
Most Polish cities are way more exciting than people give them credit for, and they should be on any Europe lover's bucket list.
Want to know what each one has to offer? Check out this awesome roundup of the best city breaks in Poland.
Warning: You might feel your fingers tingling and the urge to book a flight.
*I try to keep the information on this blog as updated as possible, but I still recommend consulting the latest prices, opening hours, and other details on the official website of each site, hotel, and tour, as well as checking the updated public transport routes and timetables.
*This post may contain affiliate links from which I earn a commission (for more info, read my disclosure). As an Amazon Associate, I earn from qualifying purchases.
---
---
CITIES TO VISIT IN CENTRAL POLAND
WARSAW
The largest city in the country, Warsaw is rapidly gaining the attention it deserves as a visit-worthy European capital.
Alongside landmarks and museums that preserve its history and heritage, you'll find shopping streets, colorful murals, parks and gardens, and modern cafes and restaurants.
This city also offers exquisite food, buzzing nightlife, and cultural events like open-air Chopin concerts, so any traveler can find something to love about it.
Plus, it has something to offer in every season, so it makes a fantastic winter break in Europe just as much as it is a great summer getaway. Believe it or not, it's also a wonderful European girls' trip destination.
One of the best things to see in Warsaw is the old town. It was reconstructed after WWII and was declared a UNESCO World Heritage Site.
Take your time to stroll through its beautiful streets and Old Town Market Square, and don't miss landmarks like the Royal Castle and Barbican.
Another fun free thing to do in this city is to explore the Praga district on the other side of the Vistula River. Here you'll find an interesting mix of street art, pre-war buildings, cultural spaces, and even one of Europe's busiest zoos.
You can also visit plenty of museums like the POLIN Museum of the History of Polish Jews, the Copernicus Science Centre, and the Uprising Museum or take alternative walking tours like a Communism tour to learn more about the city's history.
ŁÓDŹ
By Ania from The Traveling Twins
Łódź is the Polish word for boat, but the city of Łodź is in the middle of Poland and doesn't have any rivers.
It was a small market town until shortly after the beginning of the 19th century when it became the fastest-growing industrial city in Europe.
Vast fortunes were made, and palatial homes were built for the wealthy, bringing an influx of fabulous craftsmanship.
Łodź's riches were created in red brick steam-powered factories so large that they had internal streets. But in time, these places became grim and grey, especially with the industrial decline of the later 20th century.
Now the red brick factories are fancy shopping malls, restaurants, and open spaces. The palaces are museums and galleries. The air is clean, and many of the grey buildings are covered in big colorful murals.
At the turn of the twenty-first century, Łódź has built on the cultural legacy of the industrial era, emerging from the ashes to become a city of modern culture, art, and good food.
Visit Manufaktura – an enormous restoration and reimagination of vast industrial textile mills that creates an exciting series of internal and external spaces. They house malls, galleries, cinemas, play spaces, food outlets, and game halls.
Walk or ride a rickshaw along Piotrkowska, Łódź's main street, which at over 4 km, is the longest shopping street in Europe.
You can also enjoy spacious open parks, shops, restaurants, bars, street art, and historic buildings restored as exhibitions, modern workspaces, and cafes.
---
---
BEST CITIES TO VISIT IN POLAND'S WESTERN REGIONS
POZNAN
I can safely say that Poznan is one of the most beautiful cities in Poland and a total revelation to me. From exquisite architecture to huge parks and gardens to the coziest cafes to open-air markets, you will never be bored in this city.
And what's better than visiting a picturesque place that offers a long list of things to do and see but has yet to be discovered by masses of tourists? It is the absolute best.
Start with rambling through the streets of the old town and visiting the Old Town Market Square (aka one of the most stunning European squares).
Beyond its beautiful colors and architecture, it houses sights and museums like the Old Town Hall, the Archaeological Museum, and the Croissant Museum.
The last one is dedicated to a uniquely flavored local pastry called St. Martin's croissant. It is a must-try when visiting Poznan and can only be called St. Martin's croissant by bakeries with a special certificate.
Other visit-worthy spots in the city include Poznan's Cathedral, the Imperial Castle, Poznan's palm house, and the list goes on.
And for those of you who want to enjoy some natural scenery, take a stroll around Lake Malta or one of Poznan's many gardens and parks.
WROCLAW
By Alexander from Gourmand Trotter
Wroclaw is located in the South West of Poland, about 3 hours driving from Krakow in the historical region of Silesia.
It's an old city with several historic buildings and impressive architecture. It has been part of various kingdoms throughout history, which can still be seen in the city.
Some of the major landmarks include the Main Market Square, Cathedral Island, and the Centennial Hall, which is also listed as a UNESCO World Heritage Site.
Wroclaw is one of the lesser-known cities in Poland, but more tourists are discovering its beauty these days, especially since it was listed as a European Capital of Culture in 2016.
It's beautiful to visit any time of the year, and one of the main highlights is to stroll around the old town and admire the architecture.
Another fun activity is to go gnome hunting and find all the gnome statues that are scattered across the city.
GNIEZNO
By Anya from Road is Calling
Gniezno, the first capital of Poland, is a small city located 40 minutes from Poznan. It is great to visit it on a day trip from Poznan or have a side trip when traveling to Łódź.
Although it's difficult to call Gniezno outstanding in terms of architecture, it is still very cozy with cute streets, lots of trees, and a unique vibe.
Here, the Cathedral of the Assumption of the Blessed Virgin Mary is located – one of the most revered and famous Polish churches.
I love how pleasant it is to wander through the narrow streets getting in the heart of the city to the old Market Square. It is also nice to spend a few hours learning about the city's great historical and sacred significance.
Gniezno is surrounded by lakes and parks, and the rolling hills give this landscape a special charm. The cultural life is in full swing with various festivals, events, and historical meetings taking place on a regular basis.
Some of the places to visit in Gniezno on any occasion are Bazylika sw. Wojciecha, Museum of Heritage, Market Square, and the largest train yard museum in Europe.
Park Piastowski offers a few walking trails from where you get a view of the Basilica and nearby houses. Also, foodies should stop for lunch at Pierogarna Siodme Niebo cafe that serves incredibly delish pierogi.
SZCZECIN
Sitting on the Oder river near the Dąbie Lake, the Szczecin Lagoon, and the border with Germany, Szczecin is an important port city with a history that traces back to the 8th century.
Throughout the years, it belonged to the Duchy of Pomerania, the Kingdom of Prussia, and Germany (amongst many other rulings), until it finally became part of Poland again after WWII.
Like many other Polish cities, what makes Szczecin so special is that perfect combo of old and new.
From the Pomeranian Dukes' Castle and the Szczecin Cathedral to trendy cafes and the insta-worthy Be Happy Museum, this city offers a fun mix of things to do and see.
The easiest way to get to Szczecin is by train from Poznan.
---
---
BEST CITIES IN POLAND'S NORTHERN REGIONS
GDANSK
By Inna from The Executive Thrillseeker
Throughout its long history, Gdansk has absorbed many different features: you can see medieval churches and typical Soviet buildings standing next to each other.
When you arrive in Gdansk, get ready to see the old city (Stare Miasto). Although it was severely destroyed during WWII, it has been carefully restored.
When you arrive at Gdansk Glowny station, follow the signs, and soon you will see intricate cathedrals and colorful houses that are more than 300 years old.
Ulica Dluga is perfect for walking and enjoying the beautiful views of the old town. This street looks like a busy anthill – there are a lot of cafes even for the pickiest taste, hundreds of tourists, and a cozy promenade.
You can find out about the history of Gdansk in the National Museum. There you can also discover an excellent collection of Flemish paintings.
Also, do check out the second-largest church in Europe and the largest brick church in the world – the Basilica of the Virgin Mary.
If you are tired of medieval architecture and looking for some adventure, head to Gdansk's Stocznia district. Bicycles, fairs, street food, and parties until the morning – this is what Stocznia is all about.
BYDGOSZCZ
By Ivan from Mind the Travel
Located in northern Poland, Bydgoszcz (it can be roughly pronounced like Bid-gosh-ch) is known as Polish Venice.
Its distinctive decorative red-brick architecture, food scene, laid-back atmosphere, and youthful vibes are some of the reasons why the city is worth a visit. However, it's still one of the country's lesser-known destinations.
Spend some time walking around the streets of the Old Town and marveling at the beauty of Bydgoszcz Market Square, one of the prettiest medieval squares in Poland.
It witnessed some tragic events during WWII, and you can commemorate the Nazi regime's victims at the Bydgoszcz Land Fight and Martyrdom Monument.
Continue and head to the Cathedral of Saints Martin and Nicholas. Do not miss out on the opportunity to get your photo taken with the Tightrope Walker Sculpture, dangling over the River Brda.
On the other side of it, you'll find Mill's Island (Wyspa Mlynska), a spacious green oasis where locals relax on the weekends.
Consider watching a world-class theatrical performance at Opera Nova in the evening. You may also listen to and enjoy a classical music concert at the famous Pomeranian Philharmonic. Arguably, this is the prettiest place in the city and the reason to come.
No trip to Bydgoszcz is complete without visiting the Museum of Soap and History of Dirt. This unique museum takes visitors through the history of hygiene and the soap manufacturing process. You can also create your own soap at the museum's workshop area.
Being a compact city, Bydgoszcz is easy to explore on foot. In addition, because of its underrated status, you may find locals are more inclined to offer advice when you need it.
SOPOT
By Sean from LivingoutLau
Are you a beach lover? Do you miss the beach when you are traveling? Worry not. Though Poland is not famous for its beaches, it does have quite a few worth checking out. My favorite beach town/city is Sopot.
Located a short train ride from the popular tourist city of Gdansk, Sopot is an easy day trip. Though if you want to stay for a few days, there are many accommodations and things to do in the area.
Not only is Sopot known for its sandy beaches located next to the Baltic Sea, but it also has some of the craziest parties in Poland. Come party for a few days, lay on the beach, and just relax. Vacation isn't always about constant action.
There are also a few Polish landmarks worth visiting in Sopot such as the unique Crooked House, the beautiful Sopot pier, and the famous Bohaterów Monte Cassino pedestrian street.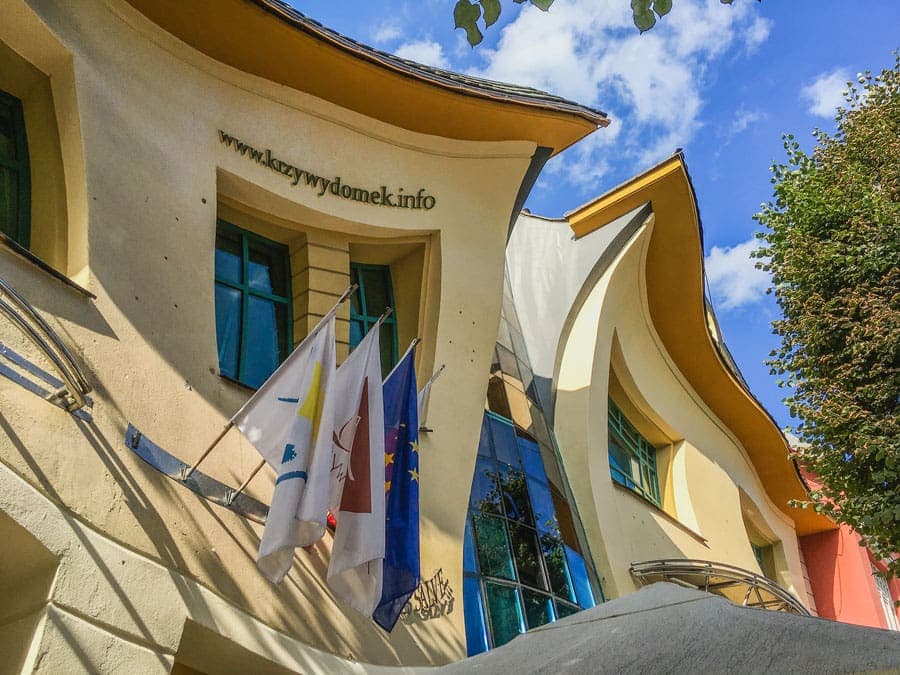 HEL
By Claire of Backpacking Bella
Despite its name, Hel is one of the most heavenly places to visit in Poland. With a warm and temperate climate, it sits at the tip of the Hel Peninsula in the Pomerania province, close to the Tri-city area of Gdańsk, Gdynia, and Sopot.
Connected by road and rail of 33 kilometers (21 miles) to the mainland, the Hel peninsula is so narrow that during the train journey, you can see beaches on both sides.
Previously a trade center, fishing harbor, and naval base, Hel is now a yacht marina and a popular seaside resort for weekend trips from the Tri-city.
Hel's history as a military base is still evident as fascinating remnants of naval stations and equipment are dotted around the area.
Its tourist attractions include a seal sanctuary, which is particularly fun at feeding time. There's also a lighthouse, welcoming restaurants, beautiful beaches, and nature reserves to explore, as you can walk all the way around the end of the peninsula.
In Hel, it feels like you are at the edge of the world, but in the best way possible.
KARTUZY
By Dominika from Sunday In Wonderland
Poland is rich not only with big metropoles but also with many smaller cities. In those places, you can discover the real Polish culture. One of them is Kartuzy, a town located in the Kaszubian region, around 35 kilometers from Gdańsk.
Kartuzy is situated in a picturesque landscape. The town is surrounded by green forests and four lakes.
Among the people from Northern Poland, Kartuzy is mostly known for the collegiate Carthusian church and its particular shape – the characteristic roof of the temple looks like a coffin lid.
This church is also the main architectural and historical attraction of the city. Kartuzy took a name from the Carthusian order, which settled in here in the Middle Ages. The history of monks and their daily routines is still alive in this place.
After a visit to the church, the former order's buildings, and a walk alongside the picturesque lakes, you should direct your steps into the city center.
The market square in Kartuzy, as in many other medieval cities in Poland, is the most representative place. It was restored a few years ago, so today it's a great spot to take a rest, eat a delicious Polish meal, and treat yourself with some sweets from a local bakery.
When you visit the Kashubian region, you must definitely try some local sweet buns called drożdżówka, and eat them while relaxing at the local market square.
TORUN
By Wendy from The Nomadic Vegan
Toruń's old town, or Stare Miasto in Polish, escaped practically unscathed from the bombings of WWII. It's a wonderfully well-preserved walled town built in the Gothic style and has rightly earned recognition as a UNESCO World Heritage Site.
Surprisingly, though, it remains off the radar of most tourists, so you won't have to elbow your way through the crowds like in other Polish cities.
Impressive Gothic buildings to look for include the Town Hall and the Church of St. Mary. The latter is adorned with Gothic frescoes from around 1380, while the Town Hall's tower can be climbed for terrific views.
Another great panoramic viewpoint is on the left bank of the Vistula River.
Toruń is famous for two things: gingerbread (Toruńskie pierniki) and the astronomer Copernicus, who was born here in 1473. You can even buy a souvenir that combines the two: a gingerbread cookie in the shape of Copernicus!
The most well-known gingerbread producer here is the historic Kopernik Confectionery Factory.
While the recipe is a closely guarded secret, they have revealed that there is no milk or eggs in the batter, making Toruń gingerbread a traditional Polish food that vegans can enjoy! It's also certified as being kosher, non-GMO, and free of palm oil.
GDYNIA
By Kamila from My Wanderlust
Gdynia is one of the youngest cities in Poland. It was founded only at the beginning of the 20th century. Always in the shadow of the older and more popular Gdańsk, Gdynia also has a lot to offer and is worth your time.
You can admire here amazing modernist architecture (probably the best in Poland), cool murals, and some incredible ships – a perfect testimony to the maritime heritage of the city.
In Gdynia, you can also find one of the most interesting museums in Poland – The Museum of Emigration, showing the history of transatlantic liners and those who took them in search of a better tomorrow.
If you wish to relax or enjoy some water sports – Gdynia is perfect for that too! For a nature getaway, visit cliffs in Orłowo – this is such a picturesque place, away from the crowds.
Gdynia is also home to some well-known festivals, such as the music festival Open'er that takes place each year at the beginning of July or the Polish Feature Film Festival. There are just so many reasons to visit Gdynia!
Looking for more European city break inspo? Check out these amazing cities you need to visit in Hungary, Portugal, the Netherlands, Germany, and Austria!
Also, check out my roundup of travel sneakers that are perfect for a city break.
---
---
BEST WEEKEND BREAKS IN
POLAND'S
SOUTHERN REGIONS
KRAKOW
By Stephanie from History Fan Girl
Krakow is a gorgeous historic city in Poland, and it's one of the most important cities to visit to understand the devastating toll that the Second World War took on Eastern Europe.
On your Krakow itinerary, you can learn about the events that happened in the city, visit Oscar Schindler's factory, and take a day trip out to Auschwitz-Birkenau.
Even though I've visited many World War II sites like Normandy, Berlin, and Dresden, Auschwitz and Krakow are two of the places that stand out the most for me and where I learned the most about the real effects of the war.
Beyond World War II history, you can explore the city's historic core. Highlights include the Wawel Royal Castle and the city's restored Main Square.
Another interesting day trip that should not be missed is a visit to the UNESCO World Heritage Site of the Wieliczka Salt Mine, an underground world that combines science and art.
RZESZOW
By David from Travelsewhere
Tucked away in the southeast of Poland, you'd be forgiven for overlooking the small city of Rzeszów.
The modern Rzeszów is a financial and commercial hub, but those who visit it will discover a pleasing historical center that dates back to the Middle Ages.
Rzeszów prospered as a trade stop between Europe and the Ottoman Empire but lost much of its importance under the Austrian Empire.
At the heart of Rzeszów is its Market Square, which is lined with beautiful traditional architecture and is home to a cute little covered well.
But what really steals your focus here is the City Hall, whose elaborate design hides the fact that it's only 100 years old. Not that you're likely to mind because it's surely one of the prettiest city halls in Poland.
There are more grand buildings to be found along the pedestrian thoroughfare of 3 Maja, named after the day on which Poland's constitution was declared.
Follow the street to the end, and you'll find the curious pairing of Rzeszów Castle and Lubomirski Summer Palace sitting across from one another.
The castle, while imposing, is not all that pretty, whereas the palace looks the height of elegance.
TARNOW
By Diana from The Elusive Family
Approximately 1 hour east of Krakow on the newly created highway, sits the beautiful city of Tarnow. It is of utmost historical significance in Poland's history.
During WWII, the city was home to a large Jewish Ghetto and also had the first train to Auschwitz, where the Germans continued to decimate the town's population.
Today, a lot of the city's history is ingrained into its culture. The town center is creating a new museum dedicated to the war as well as Tarnow's history in its entirety. There is also a large Jewish Cemetery that was recently restored.
Rynek is the center of the town, within which you can find the main square and an area where a lot of locals go to have a beer in the evening.
The city itself is a growing city with a long shopping area on Wawel Street and growing shopping districts outside of the main streets.
A train station has direct trains to many cities in Poland, including Krakow, and Tarnow also lies right off the main highway. It is a beautiful place to visit and definitely worth exploring.
GORLICE
By Veronika from Travel Geekery
Gorlice in Poland can be found not too far from Krakow, but it's a town rarely any foreign traveler ever visits. That's surprising given how beautiful the town and the area around it are and how significant a role in history it played.
Gorlice is the place where the very first crude oil mine was built in the 19th century, with locals harvesting the strange black liquid that leaked out of the soil as far back as the 16th century. The kerosene lamp was also invented in Gorlice.
One of the main events of the First World War happened here in the famous Battle of Gorlice. It eventually led to Poland's independence being restored.
The cute town features a lovely square and a maze of narrow streets surrounding it.
The best time to visit is late September when yearly celebrations of light dress the city even more up, and amazing fire shows are held right at the square.
ZAKOPANE
By Coni from Experiencing the Globe
If you're looking for an escape from big cities, Zakopane is a perfect choice.
It has the vibe of a ski resort town from Central Europe but in a much more authentic way. The town is laid back, full of charm, and ideal if you want to have an active holiday.
You'll find winter sports in the cold season, but when it shines the most (in my personal opinion) is throughout the rest of the year, when it serves as an entry point to the Tatra National Park.
You can base yourself in Zakopane and spend days on end hiking and climbing the gorgeous mountains.
The most popular hike is to Lake Morskie Oko ('Eye of the Sea'). But if you visit during summer and want to avoid crowds, head to the tourist information office, where they will happily show you the many more alternatives to enjoy the vistas in peace.
After a day of beautiful panoramic views of mountain lakes, have a stroll around Krupówki street for restaurants, coffee shops, and people watching.
Don't forget to try the local delicacies: gofry, a full-of-toppings bubble waffle; and Oscypek, grilled smoked sheep cheese served with cranberry jam (I know it sounds weird, but it's delicious!).
KATOWICE
By Julia from Where is Juli
Katowice is a city that you usually pass through, not visit. It is located in Silesia (Slask), the mining region of Poland, and remains off the beaten tourist path.
But Katowice has so much to offer, so give it a chance and stay for a few days to explore.
Start your visit at the Silesian Museum (Museum Slaskie). This is one of the most interesting museums in Poland (and the best one I have ever been to), where you will learn about the history of the region. Extra tip – on Tuesdays, admission is free.
If you like design, you will appreciate the architecture of the buildings and the surrounding area. Located nearby – Spodek (meaning "saucer" in Polish) – is one of the most recognizable buildings in the country. It is a multipurpose arena complex that was built in 1971.
No visit to Katowice is complete without a walk in the suburb of Niszkowiec. The 100-year-old workers' districts are full of characteristic brick buildings and give you endless photo opportunities.
Stop for a coffee at Zillmann Tea & Coffee or the legendary Cafe Byfyj. To try some Silesian food (yes, there is a regional cousin here), go to Żurownia restaurant and order kluski slaskie, zur, or brat.
If you are visiting Katowice in the summer, you can chill out at Three Ponds Valley (Dolina Trzech Stawów) – an oasis in the urban jungle, where you can relax on the beach and listen to live music.
---
---
CITIES TO VISIT IN EASTERN POLAND
LUBLIN
By Ellis from Backpack Adventures
Lublin is one of the most underrated cities in Poland.
It receives little attention while it is just as scenic as the more famous cities like Krakow or Gdansk. There is also an equal number of interesting things to do in Lublin.
Lublin is located between Krakow and Vilnius and has always been a major center of trade and commerce in the Eastern part of Poland. It was a very multicultural city, and even though the old town was left intact during WWII, a large part of its Jewish community sadly disappeared.
Nowadays, the main attraction is Lublin Castle that has a nice location up on a hill overlooking the old town.
The castle once belonged to the royal family ruling over Eastern Poland but is now home to the Lublin Museum, which is one of the best museums in the city.
From Lublin's castle, it is just a short walk to the old town with its ancient city gates, colorful merchants' homes, and great restaurants.
Also, in the newer part of the town around Litewski Square are some delicious places to eat where you can try Polish cuisine. With its great food and friendly people, Lublin is definitely worth a visit.
ZAMOSC
By Karolina from Lazy Travel Blog
Possibly the best destination on the eastern side of Poland is the small town of Zamosc.
The Pearl of the Renaissance, which was once the epicenter of the 16th century Polish-Lithuanian Commonwealth, is a gem waiting to be discovered by the travel community.
This small town in Lublin Voivodeship, which is a recognized UNESCO World Heritage site, is filled with beautiful and colorful buildings that will take you back to the past.
One of the best things to do in Zamosc is to see its iconic attraction – the City Hall that looks over the old town square.
It is probably the most photographed building in Zamosc due to its architectural beauty. Although one can climb up the steps or enter the lobby, the rest of the building is still used as council offices.
Another building that is worth a visit is the Cathedral of the Resurrection and St. Thomas the Apostle. Fringed by the branches of the trees that surround it, it is the perfect subject for a bit of photography.
For historians and adventurers, there is a half-kilometer underground walk through the Bastion part of the Zamosc Fortress that is open to tourists.
BIALYSTOK
By Ana from Merry-Go-Round Slowly
Like many other Eastern European cities, Bialystok might not seem charming right at first sight.
It has many grey Soviet blocks of flats and might seem a little hard to crack at first, but give it a chance. This place has so much to offer in terms of history, hospitality, and local cuisine.
Bialystok is a real border city and is located close to the borders of Lithuania, Belarus, and Ukraine. Like many other towns in Eastern Europe, it has stayed in one place, while the countries changed.
At different times Bialystok was a part of the Russian Empire, Lithuania, and Poland. Before the war, 20% of the population was Jewish.
If you visit Bialystok, take a stroll around the city center, and make sure you pay a visit to Branicki Park and Palace. The old town may seem old, but it was rebuilt after the original wooden houses had burned down.
While in Bialystok, you have to try some local food and beer. The local food is potatoes in all possible variations. Other typical dishes include herring, filled dumplings, and many hearty soups.
For dessert, check out Wedel at Rynek Kościuszki street. There you can choose among chocolate in all possible forms: sweets, cakes, drinks, and mousses.
Bialystok does not have an airport, but it can be a great place for a road trip from either Vilnius or Warsaw.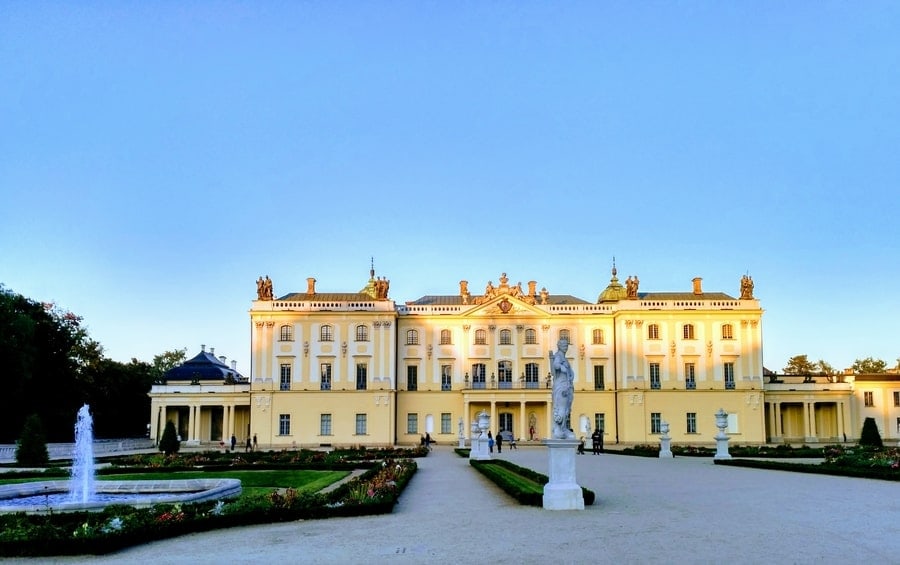 Pin this post about the best cities to see in Poland for later!